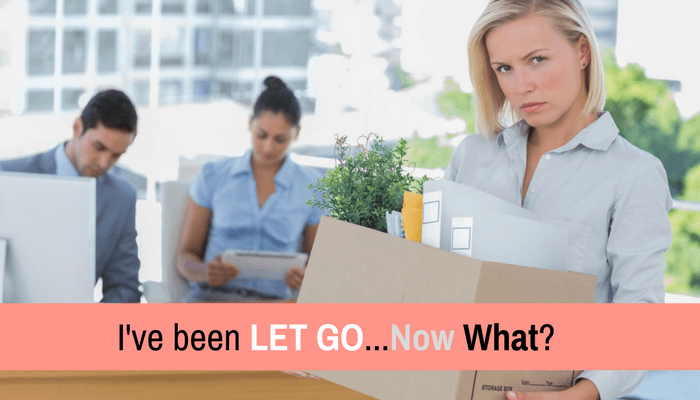 – A rush of emotions as soon you hear the news…A sense of helplessness over the suddenness of it,what do I do now?
– A sense of insecurity over the future..why me?why now?
– Will I find another job?
– A sense of relief..maybe this is the best thing that has happened to me..I've been wanting to take a break and can never get myself to do so..this maybe a blessing in disguise?
– What about the mortgage on my house? the vacation that I had planned..should I postpone it?
– Should I tell my family and friends? Or get another job and tell them that I switched jobs?
– Should I go to school and get my masters instead?
– The next workplace I ought to find closer to home.
– Atleast, the severance packet will pull me through the next 2 months..
– my resume hasn't been updated in years..
The barrage of thoughts and the list of questions seem endless. Myriad feelings seep through your mind – anger, anxiousness, overwhelm, disappointment, relief, fear…or if you are one the luckier ones, you know exactly what to do.
Here is a step by step plan to get you to the next chapter in your career, after you've been let go.
Take a breather: I mean it both literally and figuratively! The myriads of emotions that you experience, can suffocate you and leave you gasping for breath and direction and resolution. Give yourself a couple days to digest and acknowledge the reality. Take a breather from the situation and give yourself a much needed break.The duration of the break will depend on you and your situation. If you have been in the workforce for a long time and have always wanted to take a break but never had the courage to do so, this may be a blessing in disguise for you. On the other hand, if you are in dire financial needs and you cannot survive without a steady paycheck coming in, you could look at a break of 2 days. You are the best judge of your situation.
Take stock: Once you are back from a break, take stock of your assets. In this case, your assets fall into 2 categories:

Skills and experiences: Most people are not in the habit of tracking their growing repertoire of skills and experiences. Since this is going to be your USP , its best to start with this aspect.
Relationships you have built: Next, take a stock of all the relationships you have built that you can reach out if needed.

Re-assess: For most people, the tendency is to jump back to finding a similar job. If you have been an Accountant, tendency is to look for similar roles at similar levels. Nothing wrong with that. But this may be the ideal time to reassess and see if it is truly something you want to continue doing, especially for folks who have had a desire to do something different. Have you always wanted to take a month off to go and visit a place or a person or do something that you needed time for? If you financial situation affords it, this may be the ideal time to do so. Again, you know your dreams and your situation better.
Layout a plan: Most people jump back into the job search game with no plan in place. They start scouring job search sites and applying for jobs depending on their level of motivation. I urge you to take a step back and come up with a plan. Elements of the plan can include, the daily actions you will take on three levels: identifying your target companies, identifying existing or new relationships in those companies, updating your resume and LinkedIn profile, understanding the job market and the opportunities that exist, looking at specific job sites, reaching out to people, sending applications and so on.
Take steps on a daily basis in a disciplined manner:  Brian Tracy said "Discipline is the bridge between goals and actions and we must cross the bridge everyday". It is easy to get emotional and do tasks and activities on a on/off basis as per your waning motivational levels. But the key to success is to have a plan and stick to it everyday. That is why the plan you layout in step 4 has to be realistic and actionable meaning it should have the right kind and right amount of tasks for daily action taking.
Celebrate micro-wins: Most of us forget to acknowledge and give ourselves credit for the steps we take to reach our big goal. These small micro-wins as I like to refer to them are the fuel to keep us going. When we see your motivation levels waning, lean on your micro-wins to provide you with fuel to keep going.
When you are let go, there is hope and yes, you do still have a future. The next chapter of your career awaits you! Follow the above 6 steps to navigate to the next chapter successfully!
What did you experience when you were let go ? How did you successfully navigate the situation?